WHAT

- I got the chance to join Beauty Blogger Challenge held by Laneige one of the most well known beauty brand from Korea. Do you ever think what Laneige means? Well it means snow in French ;) this brand studies the skincare concerns and trends of women in their 20's by giving the goodness of water science to help women achieve the radiant, dewy skin they have always longed for. Curious about what dewy skin look alike.. You'll see it in seconds.
The Laneige Indonesia team welcomed us and explained about the challenge to 10 bloggers. This competition held in five Asia countries to get 1 winner from each country and become Laneige beauty blogger Ambassador. How cool is that?! It really an honor for me to get the experience trying Laneige products and joined the competition as well.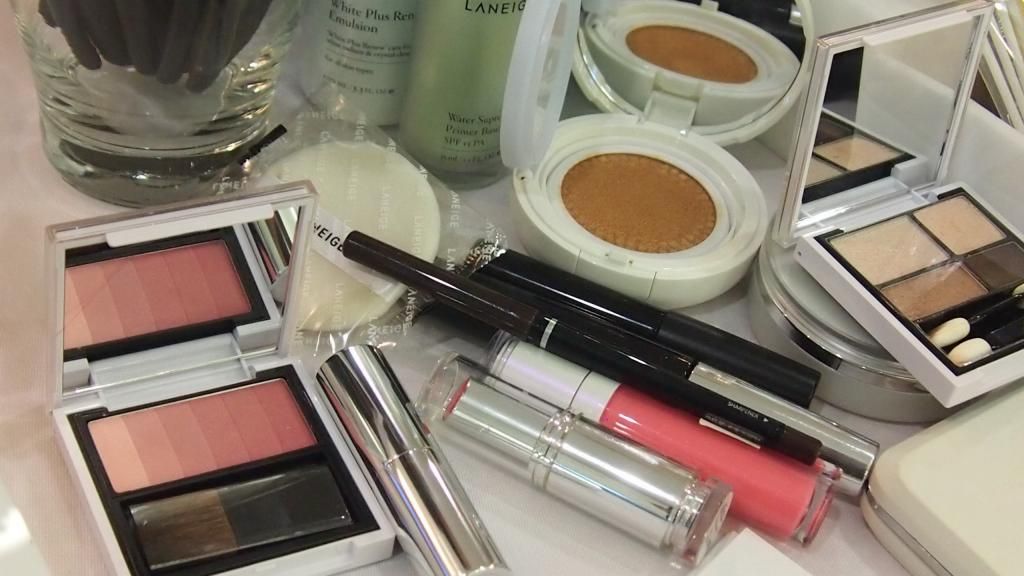 STEP

- Now, the moment of truth.. I will share the step by step to get the K-Look (Korean dewty look) ;) will explain it with pointers and blocking so you guys won't be tired reading this. Haha
1. I

have to clean up my face from makeup and dirt using

Lip & Eye Remover Waterproof

and

Oil-Free Cleansing Liquid

. They are ophthalmologist tested, meaning proved that there won't be any irritation / allergies / dry-eye syndrome. Some of us might have experienced with other brand that when we wipe our face/lip/eye with remover, it will make our skin dry. But this one, besides cleaning, they also moisturize your skin.
2. I gently swipe the (gel-type)

W

hite

P

lus

R

enew

S

kin

R

efiner to the face to keep my skin well-hydrated , looks plump and healthy, removes residue, boosts whitening effect and improves skin texture to create a smooth skin.
3. Apply the

W

hite

P

lus

R

enew

E

mulsion, to leaves the skin refreshed, calm, moisturized and provides intensive whitening effect.
4. Apply the

W

hite

P

lus

R

enew

E

ssence by gently spread from center towards the contours then let it absorb. This is basically like a serum. Giving you a deep and sustained moisturizing, detoxifies inner skin and delivers a sleek skin texture. Ok I already felt rebirth after the 4th step haha…
5. Now we are going to enter the makeup preparation after giving some time to spoil our skin. I used the

W

ater

S

upreme

P

rimer

B

ase

SPF 15

(type: 60 light green, they got 3 types, you can choose 1 that fits you best). It's for correcting reddish and dark skin tone for clear complexion so after this moisture coating, we ready to use the foundation.
6. This is my most awaited product, the

S

now

BB

S

oothing

C

ushion

SPF 50+ PA+++

!

Gives you a bright look, spf50+, cooling effect, natural glow and sweat –proof & long-lasting. The uniqueness is at how to apply it. You push the puff against the sponge to absorb then apply it to your face, very easy! To conceal the blemishes, pat several times to improve coverage. Ahhh I love this so much!!!
You should have one. For sure! Oh if you want to reduce the "sweat lasting" look, finish it with water supreme finishing pact.
If you wondering, why there's always water word in every product, like I said before Laneige using water goodness to optimize in giving deep moisturizing to our skin.
7. Time to put some makeup. I start with the

Natural Brow Liner - Auto Pencil

, to be

honest I never use this because I don't think I can draw my brows but surprisingly its very easy to apply, the color is not too dark or too light and since it's a retractable auto-pencil, it does not require periodic sharpening, after that for the eye makeup I used the

M

ulti

P

rofessional

S

hadow with 4 complementary colors. Oh they have the shimmery to make your eyes and face more glowy, Next to make my eyes looked bigger I put on the

Extra Easy

E

yeliner (for day look, I used the eyeliner at the eyes lower part from middle to outer part while for the night look I used from inner to outer for the lower part), I complete the eye makeup with the

V

olume

S

etting Mascara. I forgot to bring my eyelash curler but turns out I don't need any since the mascara itself already boost up my eye lashes with its double twisted brush – magic!, Almost finish, I put on the pink gradation series of

Professional Selection Blusher

(looked natural on my cheeks), I blushed like a shy girl. haha, Finally the last step I closed my K-Look by using the

P

ure

G

lossy

L

ipstick, its very soft and jelly like texture, so it can prevent flaking on your lips our worst enemy when using lipstick.. So voila!
DAY &

NIGHT LOOK - I create the day and night look using almost the same product. The difference is for the day look I'm using the brown

M

ulti

S

haping

E

yeliner with light color for the eyeshadow and

P

ure

G

lossy

L

ipstick (

D

elicious

P

ink). For the night look, I made it more intense by putting darker color for the eyeshadow using black

E

xtra

E

asy

E

yeliner (liquid) and mix the

P

ure

G

lossy

L

ipstick with the

Snow Crystal Pure Lipgloss

for more plumply lips
Results are below. I love both look! This whole steps using Laneige products gave me a smooth, shiny skin look. Flawless like K-Look ;) You can try and take a look for Laneige products at: Seibu Grand Indonesia, Sogo Kota Kasablanka and Pondok Indah Mall 2. Such a great beauty experience I had and I will back to meet Romeo one of Laneige's makeup artist on June 24th. Yay!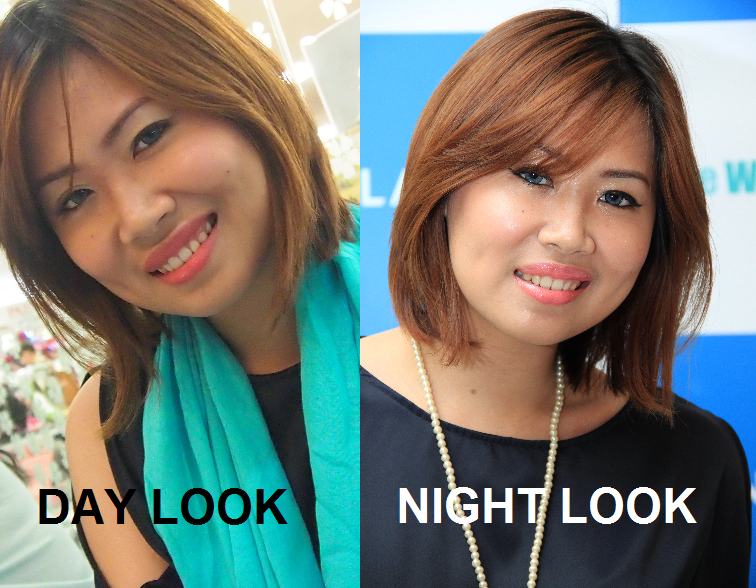 You can vote for me and take a peek of other bloggers BEFORE AFTER result… Same with me, all of us transform!!! Visit Laneige microsite HERE. Voting period from 19 to 26 June. Vote for me! *wink
ps: There are some photo's color difference because besides using my camera, I also took some photos from Laneige's photographer.. ;D